Major fire incident declared in Surrey and Londoners urged not to barbecue
July 25, 2022
Fire services have declared a major incident in Surrey and urged Londoners to cancel barbecues in the capital as firefighters continue to tackle "significant" weather-related blazes.
Several fire engines were sent to Hankley Common, a beauty spot in Surrey, on Sunday after a large fire estimated to affect at least eight hectares of land broke out, according to Surrey fire and rescue.
Crews are expected to remain on the scene until at least Monday, and people have been advised to avoid the area. Some local roads have been closed, and residents have been urged to keep doors and windows closed amid a "great deal of smoke".
The fire was downgraded by the service at 6.40pm, but people were still advised to avoid the area.
London fire brigade has also said it is tackling multiple "significant" fires related to the hot weather in the city, with incidents reported in Enfield, Hayes and Thamesmead, and has issued a plea to the public to cancel any planned barbecues.
In a tweet on Sunday afternoon, the fire service said it had attended a higher-than average number of incidents: "We're tackling significant incidents in Enfield, Hayes and Thamesmead. Between midnight and 1700 we've attended more incidents than we would in a normal 24-hour period.
"Please help us prevent further fires by cancelling all planned BBQs, removing rubbish, especially glass, from grassland, and disposing of cigarettes correctly. Our firefighters and control officers are doing a fantastic job in challenging conditions. Your cooperation will help us greatly."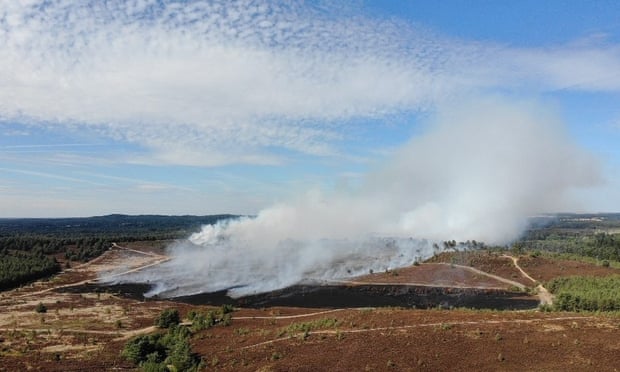 Ten fire engines and about 70 firefighters were sent to a grass fire in Rammey Marsh in Enfield on Sunday to tackle a blaze covering an area of 20 hectares.
LFB later tweeted that the fire was under control, adding: "Please spare a thought for firefighters working in this heat and help us prevent further fires by not barbecueing, removing glass from grassland and disposing of cigs correctly."
Hankley Common was one of the locations used in the James Bond film Skyfall.
Although the immediate cause of the fire is unknown, Surrey fire and rescue service also issued a plea to the public, saying: "Please help keep our outdoors safe: pack a picnic instead of a disposable barbecue and dispose of cigarettes correctly."
People were warned to stay "far away from the fire as it can travel quickly". Surrey police is assisting its fire service colleagues and said Thursley Road, which runs alongside the common, had been closed.