'It's a mess and I've never seen anything like it': global lost luggage crisis mounts
July 20, 2022
When Jenn Choi packed her and her family's bags she feared for the worst. After hearing horror stories of checked airline luggage going permanently missing, she purchased tracking devices for her suitcases to ensure she would not have to rely on a critically understaffed aviation industry facing what could be its worst meltdown in history.
Lo and behold, all three of the bags containing the possessions of the self-help coach, her husband and their one-year-old child remained almost 10,000km (6,200 miles) away in Germany when they arrived in Cancun, Mexico, last week.
"Our bags have still not even been found and we will be without them for at least a week," she tells the Guardian. "I feel like it's a part of traveling these days as it is becoming so common. Many people here in Mexico are on vacation without their bags. It's a mess and I've never seen anything like it."
Many families are taking their first holidays in three years this summer due to the pandemic, during which time airlines and airports undertook drastic cost-cutting as demand fell. As passengers return, the amount of luggage being lost by airlines is surging. In April, almost six bags per 1,000 pieces of luggage checked in by passengers were at least temporarily lost by US airlines.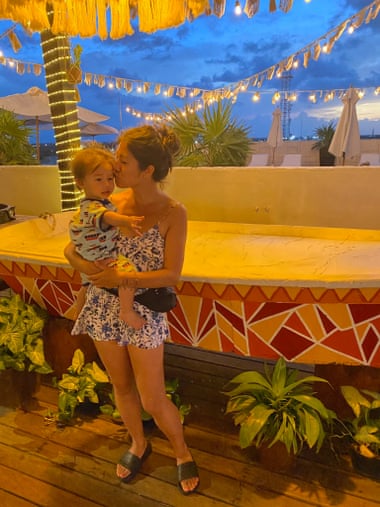 It marked a 67% rise on the same month of 2021 after almost 30,000 flights in, out and within the US were also canceled this summer. The rate of baggage mishandled across the world is also on the rise: up 24% last year, with 8.7 suitcases per 1,000 international passengers not arriving on time.
Claims for stranded luggage have jumped 30% on 2019, according to insurer Mapfre SA, and amid high rates of delayed arrivals certain airports are reportedly seeing a tenfold increase in the amount of luggage arriving on the wrong flights. Elsewhere, some global luggage shipping services are claiming to have seen demand almost triple month-on-month as travelers opt not to check their bags.
Some are calling it the summer of lost luggage and there are daily stories of baggage claims swelling as suitcases get caught in a conveyor belt-shaped vortex that only seems to be widening.
The mounting global crisis shows no sign of letting up. On Thursday, Emirates said the industry faced "airmageddon" and pointed the finger at an "incompetent" London Heathrow airport after it capped daily passenger numbers and urged airlines to stop selling flight tickets unfettered.
Heathrow hit back, following disarray at the airport when hundreds of lost bags were dumped in a hall to be processed at a later point after the system was overwhelmed. It blamed a lack of ground staff employed by airlines to check-in passengers and organize luggage and suggested that carriers were "putting profit ahead of safe and reliable passenger journeys". Similar cemeteries of lost bags have been witnessed in New York, Washington DC, Dublin, Amsterdam and elsewhere.