'If it were now I think I'd have a nervous breakdown': Sam Tutty on becoming the star of Dear Evan Hansen in the West End
April 23, 2022
Sam Tutty is a rising star in British theatre – which is very lucky for British theatre, because until quite recently the 22-year-old thought he might become an athlete. "But by the time I finished my A-levels it had just got too hard. I'd sprint for 20 minutes then throw up," he says over a Zoom chat.
Fortunately, this self-deprecating young man discovered other talents at his West Sussex comprehensive. "I did a drama GCSE – and I was like: 'This is really fun.' I was getting good grades and it was really enjoyable and I wasn't having to try too hard," he says.
He may joke about shying away from hard work, but it's clearly not true. Deciding that he wanted to pursue acting, he enrolled on a year-long foundation course at the renowned Italia Conti academy, winning a scholarship. Thankfully, there was no vomiting.
"The teachers there were phenomenal," he says. "It was a dance-heavy school and I was really thrown in at the deep end, but the teachers always said that if they could see you were trying then they'd rate you. And I really respect that. Now, I can move: give me a routine, give me a month and I can do something with it."
It was at Conti that he heard about a casting call for an intriguing American musical called Dear Evan Hansen. "I remember listening to it and I was like: 'Oh my gosh it's so different!'" says Tutty. "You can't really see any elements of traditional musical theatre in it."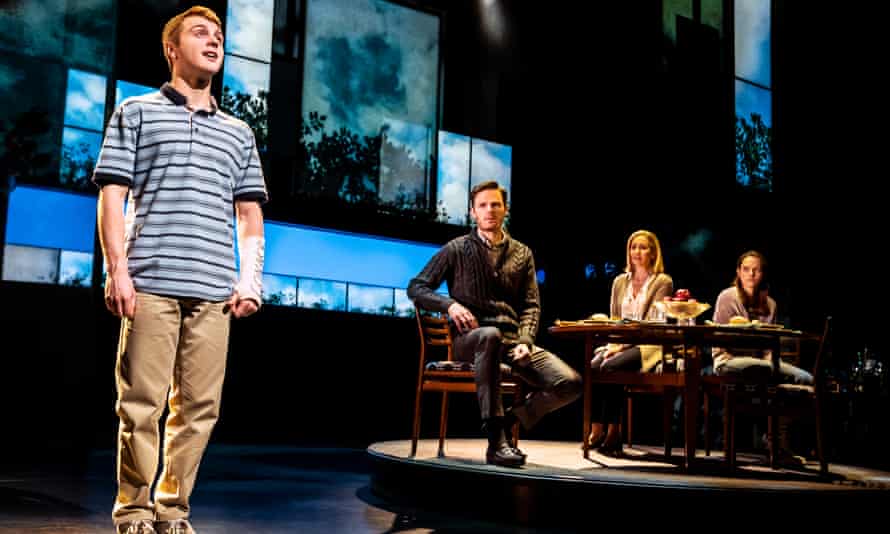 The show follows Evan Hansen, an American high school student who, in a misguided attempt to console the grieving family of Connor Murphy, a troubled classmate who has recently taken his own life, fabricates a thread of emails between the two of them to show that he had at least one true friend. It's a unique musical with a taxing and delicate central role: Hansen hardly leaves the stage, and any actor playing him needs to sing like an angel and deliver nuanced acting, lest Hansen comes across as calculating, rather than a panicked young person out of his depth.
Does he relate to Hansen, whose head he's been inside for so long? Personality-wise, says Tutty, they're polar opposites and he's never been faced with a similar situation – but being able to relate to Evan in spite of this is vital.
"He can't look like he's enjoying it in any way," Tutty says. "You can't make it too funny, because then people will say: 'Look at this sociopath only pretending to be nervous, why would I root for him?' He's only doing what he thinks is right – it's so important I make the audience understand."
Landing the part was a long process, which he survived, he says, thanks to a combination of naivety and his mum's advice. "If it were me now I think I'd have probably had a nervous breakdown," he laughs. "I was so ignorant of the scale. But my mum was a real help. Every time I got another recall she said: 'Just relax – it's not a big thing, just look at it as character building.'"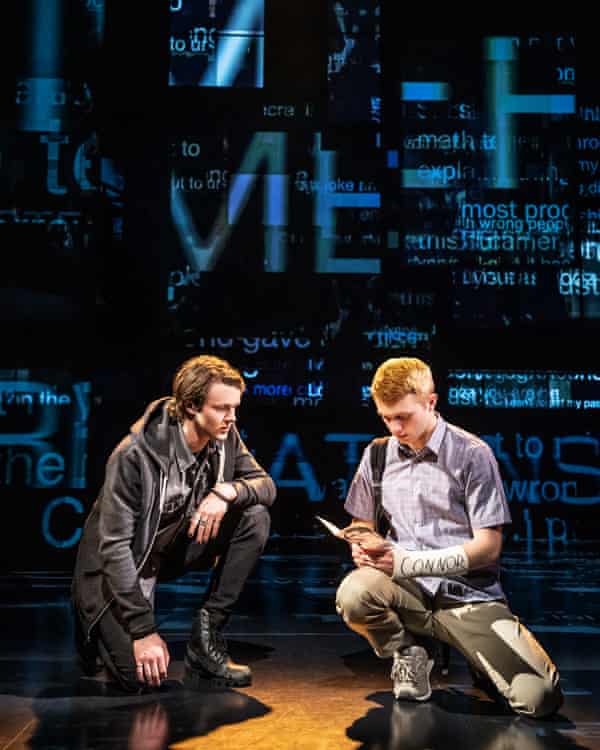 Tutty attended an open audition, had a great time, and didn't hear back. A few months later, his agent got him a fresh audition, and that set him on the path that would bag him the role, but not before he'd had more than a dozen callbacks, several in New York. It went on for so long that he ended up taking a role in the musical Once on This Island in the summer of 2019. He looks back on the time fondly, but with a certain amount of amusement and bemusement. "One day, after my second New York trip, I landed at Heathrow at 9am and then got the tube to Covent Garden where we were rehearsing [Once on This Island] and did a 10-til-six. I was on my knees!"
Midway through, he learned he'd got the Dear Evan Hansen gig, and rehearsals started shortly thereafter. When the show opened at the Noël Coward Theatre in the West End of London, in November 2019, both it and Tutty won rave reviews. His is a staggering performance: a masterclass in sensitive teenhood spiralling out of control, plus skyscraping songs – check out You Will Be Found. An Olivier award nomination duly followed. The show looked to be unstoppable.
But then everything stopped. The pandemic meant Dear Evan Hansen had to close for 17 months. Some consolation: the postponed Oliviers were held in a semi-digital ceremony that autumn, and Tutty won best leading actor in a musical, with the show itself winning best new musical the same year – adding to an impressive collection of accolades that includes Tonys for best musical, best book of a musical, best original score; and a Grammy for best musical theatre album. The award was a shock to the system, he says, admitting that he struggles to feel he's earned it (for the record, he has).
Dear Evan Hansen is now back on stage and currently booking, providing a very rare opportunity indeed to see an Olivier-winning production nearly three years on – what's more, the cast reckon they're better than ever thanks to re-rehearsing the show post-lockdown. "All my friends or family who came to see it again were like: 'Don't take this the wrong way, you were all amazing pre-Covid, but this is a different show' – and we agreed with them!"
In the UK and Ireland, Samaritans can be contacted on 116 123 or email jo@samaritans.org or jo@samaritans.ie. In the US, the National Suicide Prevention Lifeline is 1-800-273-8255. In Australia, the crisis support service Lifeline is 13 11 14. Other international helplines can be found at www.befrienders.org