French Open 2022 day nine: Tsitsipas and Swiatek in action – live!
May 30, 2022
Pegula is 4-1 up on Begu in their second set. Begu won the first 6-4.
*Rune 7-5, 3-6, 6-3, 3-2 Tsitsipas
Tsitsipas is not a happy camper. He looks up at his team when it goes to 0-30. Rune has a look at his second serve but the return isn't the best and Tsitsipas cracks a clean angled winner to the corner. However, Rune gets back in his face on the next point, working him around the court, and makes it 15-40. And then! Rune climbs into a massive first-serve return which is so powerful that Tsitsipas can only into edge it into the clay beneath his feet. Another break! Rune is running hot! He only needs to hold serve for the biggest win of his career.
Rune 7-5, 3-6, 6-3, 2-2 *Tsitsipas
A beautifully judged drop shot from Rune early in the game which Tsitsipas can only admire. Then a stunning drop volley, down low, from the Dane which Tsitsipas starts to move for but realises early on that it's a lost cause. Tsitsipas then tries to whip a big forehand from the baseline but the ball comes off the frame of his racket and flies into the crowd. Rune holds.
*Rune 7-5, 3-6, 6-3, 1-2 Tsitsipas
A high level now. Rune has three break points – Tsitsipas saves them all – and eventually holds. That was a fierce deuce battle, though, and Rune is still in the ascendancy. Tsitsipas has raised himself since that limp end to the third set, but he didn't really have any choice.
Rune 7-5, 3-6, 6-3, 1-1 *Tsitsipas
At 15-15 Rune goes to the drop shot again. Tsitsipas runs it down but Rune simple belts a double-handed backhand pass down the line. Rune makes it 40-15 with a similar shot which kisses the line, although Tsitsipas is nowhere near this one … and the 19-year-old rounds off a very impressive hold with a forehand winner angled to the side of the court, which his opponent has not the faintest hope of getting near. Impressive.
*Rune 7-5, 3-6, 6-3, 0-1 Tsitsipas
It goes to 30-30 but Tsitsipas emphatically holds serve in the end, finishing it with a powerful forehand, cross-court. He has a foothold in the fourth and needs to grab this chance to reset.
"I think Rune can win this," says Jo Durie on commentary, which seems fairly obvious given he's 2-1 up in sets. Tsitsipas fell apart at the end of that third set and he needs to have a word with himself here.
On Suzanne Lenglen, Begu (ranked 63) wins the first set, 6-4, against Pegula, who is the 11th seed and ranked 11 in the world.
Rune wins the third!
Rune 7-5, 3-6, 6-3 Tsitsipas
A double from Rune makes it 15-30 in his opponent's favour. He drags it back to 30-30 and then Tsitsipas hits a touch long, after a more protracted rally to bring up set point. An even longer rally, in which the momentum sways this way and that, ends with Tsitsipas dumping a backhand into the net! Rune has the third set! This kid has something about him.
*Rune 7-5, 3-6, 5-3 Tsitsipas (*denotes next server)
Tsitsipas holds, although not entirely convincingly, and now Rune can serve for the set.
On Suzanne Lenglen and in the women's singles, Pegula (11) is level at 4-4 in the first set with Begu, both with a break.
Rune 7-5, 3-6, 5-2 *Tsitsipas
Another unforced error from Tsitsipas to open the game … Rune then tries a booming forehand followed up by a drop, but ditches the latter into the net. Soon after there is a hideous mishit, off his backhand, by Tsitsipas that sails long. Rune fancies ending the game with a drop shot but he gets that wrong again. That was a mistake – because the ball isn't coming back from the baseline with much authority on the Greek's side. And indeed, on the next point, Tsitsipas hits wide and Rune is a game away from claiming the third set.
*Rune 7-5, 3-6, 4-2 Tsitsipas
It moves to 0-30 after that opening double fault … and then to 0-40 after another double fault! Is he feeling the pressure? It certainly looks that way … all the more so when Tsitsipas tonks a forehand wide and gifts his young opponent a break. Surprising, very surprising.
Rune 7-5, 3-6, 3-2 *Tsitsipas
Rune holds, comfortably, dropping a single point. He has a quick chat with his team and family during the changeover. Tsitsipas must serve to level it up. But he double-faults to start the sixth game of the third set …
Thanks Will. Hello again everyone.
*Rune 7-5, 3-6, 2-2 Tsitsipas
Tsitsipas has really started to dominate on serve. He wins another game to love. It's now back over to Luke McLaughlin to see you through the rest of the match.
Rune 7-5, 3-6, 2-1 Tsitsipas*
The pair exchange points before a salvo of slices ends with Tsitsipas underhitting a shot. That seems to deflate him and Rune sees out the game from there.
*Rune 7-5, 3-6, 1-1 Tsitsipas
It's Tsitsipas's turn to look unsure of himself, producing a couple of narrow misses before Rune sends a pinpoint shot to the margins to take the game to deuce. The Greek salvages things with a couple of thumping serves.
Rune 7-5, 3-6, 1-0 Tsitsipas*
Rune starts on the back foot in the third set but, having dropped a couple of points, he gradually wrests control of the game. A backhand winner down the line reinvigorates his confidence and he holds after Tsitsipas drags a return wide.
Second set: Rune 7-5, 3-6 Tsitsipas
What a match this is turning out to be. Tsitsipas wins his final service game to love, ending with a flourish in the form of another big ace.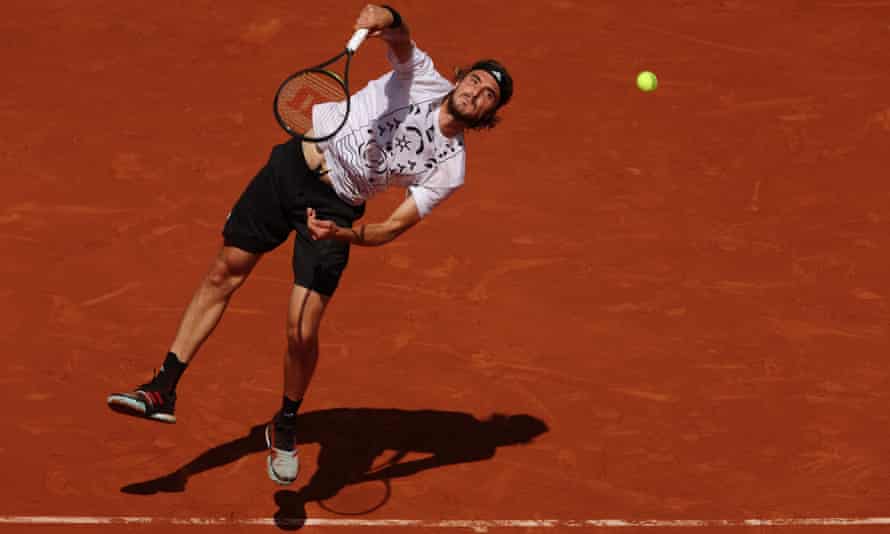 Rune 7-5, 3-5 Tsitsipas* (*denotes next server)
Rune is drawn into another slugging match, misjudging a drop shot which Tsitsipas sends whistling to the baseline. Rune then sends the ball long, giving his opponent a break point.
Tsitsipas takes it eagerly, coaxing Rune into a loose shot which hits the net. He's now in a commanding position to win the second set.
*Rune 7-5, 3-4 Tsitsipas (*denotes next server)
Tsitsipas has upped his game here and, all of a sudden, he seems to have some momentum. He drops a single point over the course of another meaty service game.
Rune 7-5, 3-3 Tsitsipas* (*denotes next server)
Rune has a wobble having initially looked like he would hold with ease, spooning several shots into the air as Tsitsipas takes him to deuce. To his credit, the young Dane regains his focus and recovers well.
*Rune 7-5, 2-3 Tsitsipas (*denotes next server)
Tsitsipas drops one point on the way to another hold, finishing things off with a mighty ace.
Rune 7-5, 2-2 Tsitsipas* (*denotes next server)
Rune defends well on serve. Who's going to blink first in the second set?
Ruud beats Hurkacz! 6-2, 6-3, 3-6, 6-3
It's all over on Court Suzanne Lenglen, where Ruud has secured his place in the quarter-finals.
*Rune 7-5, 1-2 Tsitsipas (*denotes next server)
Rune shows impressive shot selection and fantastic accuracy to earn three break points. Tsitsipas defends all three, winning the first with a well-placed drop shot before coming to the net to smash a couple of winners after dragging Rune around the court like a ragdoll.
At deuce, Tsitsipas completes the turnaround. Still, he expended a lot of energy there.
Rune 7-5, 1-1 Tsitsipas* (*denotes next server)
Rune's first service game of the second set also passes without incident. He looks slightly lighter on his feet than his opponent at the moment.
Meanwhile, over on Court Suzanne Lenglen, Ruud is now 5-3 up against Hurkacz and serving to see out the match.
*Rune 7-5, 0-1 Tsitsipas (*denotes next server)
Tsitsipas starts the second set by breezing through a straightforward service game, though he and Rune engage in several more spirited rallies before it draws to a close.
First set: Rune 7-5 Tsitsipas
Tsitsipas doesn't go down without a fight. At 30-15, Rune plays an exquisite drop shot which falls just inside the line. He then squanders two set points to allow his opponent to take it to deuce.
The pair play a ludicrous rally which ends with Rune leathering a winner across the court. He finally sees out the first set with a forehand smash after another vicious exchange.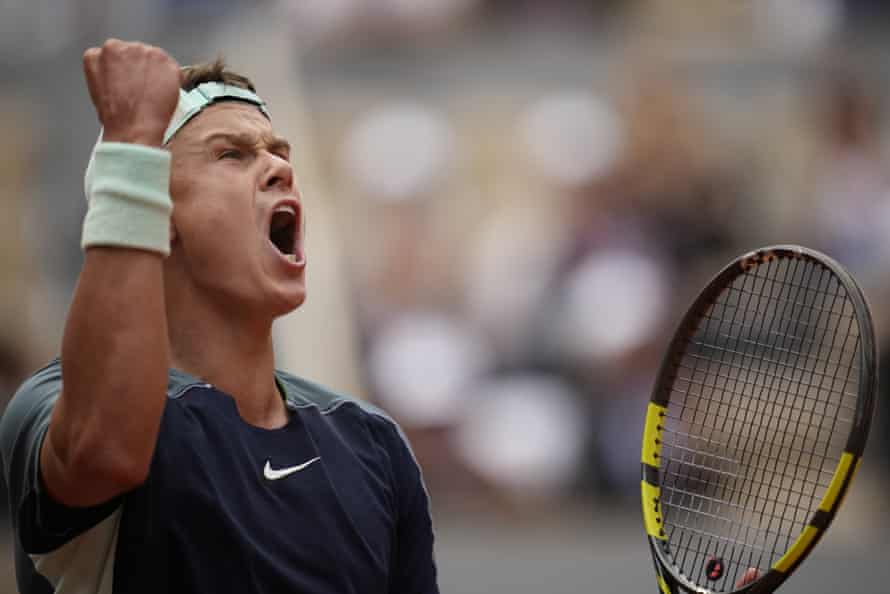 *Rune 6-5 Tsitsipas (*denotes next server)
Wow. Rune breaks with a fantastic forehand passing shot and he leads in the first set. He can serve for it. This is brewing very nicely indeed.
Anyway, I'm off for some lunch, and my colleague Will Magee will guide you through the next hour.
*Rune 5-5 Tsitsipas (*denotes next server)
Controversy, and frustration for Tsitsipas, as a game-deciding ball that looks wide from Rune is called in. The umpire comes down to check the mark. Tsitsipas has his hands on his hips. But hawkeye appears to show that the ball just touched the line. Simon Reed on commentary was also convinced it was wide. But there it is. We are all square again.
Hurkacz moves a break up in the fourth, against Ruud. The Polish player looked so off the pace early on as Ruud moved into a 2-0 lead in sets. But it looks like that one could go the distance on Suzanne Lenglen.
Rune 4-5 *Tsitsipas (*denotes next server)
Tsitsipas, the losing finalist in the men's singles last year, stamps on a glimmer of a break for Rune with three accomplished points, and he is a game away from winning the first set.