Dinamo Zagreb v Chelsea: Champions League – live!
September 6, 2022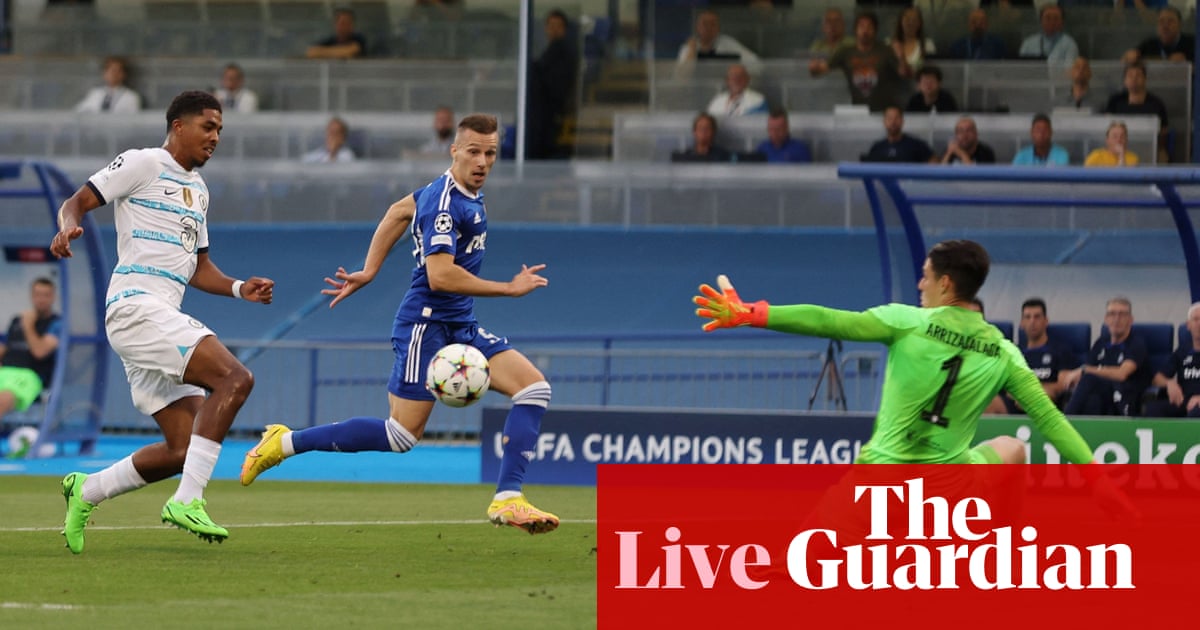 21 min: Dinamo are frustrating Chelsea's players as well as their manager at this stage. The ball continues to be dominated by the visitors but composure is in short supply.
19 min: Chelsea step it up, and Dinamo step back. Some head tennis gets the danger clear as Sterling leaps up to nod it on. Tuchel is still ranting away.
17 min: I am reminded that Orsic scored this goal against West Ham last year. He's 29, and mostly played in Japan and China but a Champo club would love someone like this.
15 min: Chelsea were so dominant and yet the first time Dinamo run at them they fold like a packet of sandwiches. Poor from them. and Tuchel is raging on the bench, even more so when he watched the replay on an iPad.
Well well well. Football. Chelsea go to sleep and Orsic runs from his own half after Chelsea lose the ball on the edge of the Dinamo box. Petkovic's ball is a beauty and Orsic speeds past Fofana, and as Kepa approaches, dabs the ball beyond the goalie. It rolls in. What a goal, what a shock. Oh Chelsea!
12 min: Chelsea dominant, and might be two up. Their £250m of spending ought to see to that, really. Dinamo seem a little overawed.
10 min: Aubameyang seeing plenty of the ball. A pass finds him galloping through and yet he delays and delays and allows himself to be blocked. The movement is there, the instinct is lacking.
9 min: Havertz skips away, the ball squared across and is begging to be knocked in by Aubameyang who is slow to react. So far, the great man looks rusty.
8 min: Chilwell claims he was baulked in the Dinamo box. Nothing doing. And Dinamo mount an attack that Koulibaly clears the danger from…
6 min: Dinamo get the ball but play it around the back before Reece James, new contract to the good, scuttles in to press. Aubameyang gets his first chance to attack, having been played in by Sterling but cuts back. The offside is quick to be called. Was that the robot? Seemed it. The whistle was rapid. Odd, mind, that Auba cut back to try and pass to Sterling. Time was when he would give that the leather.
4 min: To say Dinamo are sat deep is something of an understatement. Theirs is a back five, with wing-backs detailed to sit back.
3 min: An early attack down the left sees Kai Havertz cutting in from the left, before the ball goes back to Chilwell, in the team ahead of Cucurella. Chelsea are dominating possession already.
1 min: Aubameyang takes the kickoff in his Michael Crawford mask, to protect that jaw of his. The camera view suggests the emptiness of the stadium, though there's plenty of noise from the home fans.
And away we go in the Croatian capital, where there's some portentous music ringing out in the open-plan stadium, and plenty of noise as the players come on. It's not quite full as we hear the Champions League anthem ring out.
Thomas Tuchel speaks, and firstly on the subject of Kepa being selected ahead of Eduoard Mendy, and then on Aubameyang's selection. Kepa last played against Luton in March in the FA Cup.
First of all, Kepa deserves to play, we have two goalkeepers who compete at the highest level. Edu was a bit unlucky in his last two games, Edu has some problems, with his patella tendons. It's a decision for Kepa and we took advantage for this competition. We select him because he deserves it.

[Aubameyang] has speed and work rate. It's also about numbers. We need deep quality, and Auba is a quality player.
The Dinamo coach, Ante Cacic, is quoted by the BBC:
I don't feel any pressure, I did my job by reaching the group stage. This is a celebration for us. Big clubs are coming to play us. We have a duty to be ourselves and take our chances.

We are playing a match that we really wanted to play. It's our reward for winning the title. This is a great pleasure for us and I'm sure that we will all benefit from this competition, players and fans.

We are not the favourites in any game, but in every game we will look for our chance. This is not a knockout game: we have to look forward to it and learn from it.
Get prepared for robots to take over the officiating. Semi-automated offside will be used to speed up decisions.
Ed Aarons called it in his preview.
Asked whether Aubameyang was ready to become Chelsea's new hero despite being handed the "cursed" No 9 shirt, Tuchel – who coached him for two years at Borussia Dortmund between 2015 and 2017 – added: "Don't put any further ideas into Auba's head please. When he scores, he can celebrate. He is hungry to play for us, that is what we felt from the first moment and he is invited to prove a point."
This is the first Champions League match "Auba" will have played since 2017, what with being at Dortmund, Arsenal and Barcelona.
So, a debut for Aubameyang, though he may not be able to play the whole 90 with his jaw problem. Watching Chelsea with an actual centre forward will be something of a novelty. He will have Kai Havertz and Raheem Sterling in support, with Thomas Tuchel playing his usual three at the back and wing-backs.
Chelsea: Arrizabalaga, James, Fofana, Azpilicueta, Koulibaly, Chilwell, Kovacic, Mount, Havertz, Sterling, Aubameyang. Subs: Jorginho, Pulisic, Loftus-Cheek, Bettinelli, Chalobah, Mendy, Broja, Zakaria, Ziyech, Gallagher, Chukwuemeka, Cucurella
Dinamo Zagreb: Livakovic, Moharrami, Sutalo, Peric, Ristovski, Ademi, Misic, Ivanusec, Ljubicic, Petkovic, Orsic. Subs: Baturina, Bockaj, Bulat, Drmic, Emreli, Lauritsen, Marin, Nevistic, Spikic, Stefuli, Theophile-Catherine, Zagorac
Chelsea's season so far has been rocky. Thomas Tuchel has not cut the happiest of figures on the sidelines, and most beyond the SW London/Surrey delta would agree they got a tad lucky against West Ham at the weekend. The Champions League, the competition they won just 18 months ago, ought to be provide some respite though Dinamo are no mugs, having got past Shkupi, Ludogorets Razgrad and Bodo/Glimt to be here in the group stage. They also got the better of Spurs back in 2021 in the Europa League, you may recall. And beat Sevilla and West Ham in the same competition last year.
What can Chelsea expect? Possible debuts for Pierre-Emerick Aubameyang and Denis Zakaria may increase the intangibles. After that chaotic transfer window it may take time to see the full nu-Chelsea in full flight.
Kick-off is at 5.45pm BST. Join me.